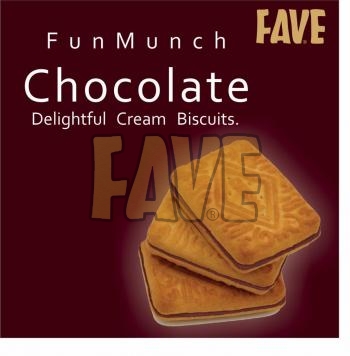 In general, biscuits are crispy crunches that are baked using flour and other substances. Outside India, biscuits are widely known as cookies. Biscuits are mainly essential for long journeys and picnic occasions. These are easy to carry, and one can keep on munching these biscuits in times of hunger. It has been scientifically shown that the consumption of biscuits in limited amounts regularly enhances your digestive system and leads to development in the process of digestion. In earlier times, biscuits didn't have many variations. But with the advancement in technology, baking companies are manufacturing flavored biscuits. They are manufacturing different kinds of biscuits such as Orange Cream Biscuits, chocolate cream biscuits, vanilla cream biscuits, etc. For various occasions, biscuits are mandatory food material. Biscuits are often consumed on every occasion such as wedding occasions, birthday parties, etc and these biscuits are preferred by people of all ages.
Types of biscuits
Biscuits undoubtedly act as a treat to one's mouth. They certainly excite your taste buds and you cannot stop your mouth from watering. Biscuits are available with a variety of textures and flavors. They are of different types that are described below:-
Rolled Biscuits: It is evident that rolled biscuits are the most popular biscuits of all time. They are composed of using baking powder. Here the specialty is that the biscuit increases its mass. Along with that, it raises its height as well. The interior of it is generally meant to be fluffy and tender associated with a crispy crust.
Drop Biscuits: Drop biscuits are the type that contains quite a standard quantity of milk. They are also made with other liquid substances. In this type, the dough is generally moisture, and one cannot roll it. Tablespoons of dough are needed to be poured into the baking sheets. They are not characterized by a rise in their height. Concerning texture, they are coarser in appearance.
Scones: Scones are usually prepared by using butter and cream. They are sweet and wedge-shaped in appearance. These biscuits are associated with a crusty brown top associated with a tender and heavy crumb. Scones are even made with eggs to add flavor to them. One can even make use of rich color for this purpose. Moreover, the overall appearance of it looks cakey.
Shortcakes: Shortcakes are featured with a lip-smacking taste. These biscuits are popular with almost every foodie. These biscuits are constructed by making use of scones as the base and rich biscuits are often used to make them. They are served in two ways. One, as a whole with a sweetened fruit topping. Second, like ice cream.
Indian companies have brought a revolution in biscuit manufacturing and supplying. The research analysts have done good research about the taste preferences of foreign residents and the workers bake concerning meet the needs of the foreign clients. Starting from chocolate biscuits to orange cream biscuits, the companies have excelled greatly in the production of textured biscuits. These companies intend to reach out to the people of Belarus, Angola, etc. Some Indian companies are great Orange Cream Biscuits supplier Angola.
This entry was posted on February, 15, 2021 at 10 : 51 am and is filed under Food. You can follow any responses to this entry through the RSS 2.0 feed. You can leave a response from your own site.